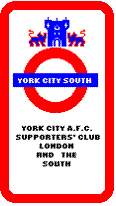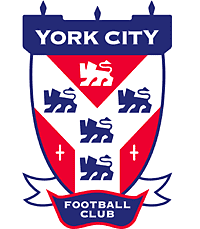 Southern Connections
From 40,000+ To 701
06/Feb/2005 (Aldershot) - A Southern Fan
A couple of weeks ago I was privileged to go to the first leg of the League Cup tie between Chelsea and Manchester Utd at Stamford Bridge. A packed full house, millions of pounds worth of talent on the pitch, electrifying atmosphere, and some wonderful skills from a multitude of international players. Whilst three of York City South's members marvelled at the quality of football, their skill on the ball and the noise from the terraces, it was an incredible evening, the only thing missing were goals [a 0-0 draw you will recall]. But something else was missing, our passion to be involved. I did not really care who was going to win, I just wanted to see some quality football at a pace and it was a good thing we were seated on the halfway line or else I would never have kept up with the play.
My next two games were our away defeat at Burton in the Trophy and our win at Leigh RMI. At Burton at three down I must admit I was so despondent I shamefully walked out before the end, the first time I have not heard the final whistle in over 50 years of watching football of all grades from Ryman Second Division (Flackwell Heath FC) to European League games at Highbury. The trip back to Bucks was spent in abject silence, our hopes and dreams of some success this season ripped out by a really poor display from the lads. Voice was hoarse yelling encouragement at the team, they did not listen. Missed home game with Morecombe, (poor planning by friend getting married in the football season), but mobile phone on with score trickled through from colleague at the match.
201 miles from Ealing to Leigh RMI brought us to the heart of Lancashire, long gone are the maze of railway tracks that must have passed through this area and prompted the creation of the Railway Institute. Just scars now as footpaths and cycle tracks are left for the hawthorn and bramble to fight over occupancy. 701 souls, mostly away supporters, spread themselves around the 10,000 capacity ramshackle ground. Another woeful first half performance, then a transformation. A three nil victory, yippee, our hearts were lifted, it did not matter about the plodding pace, the late tackles, the dreadful pitch, we had got three points, the journey home was full of buzz and light heartedness. Is this the turning point? Today will be a pointer, Aldershot in the running for a play-off position, 3 points today will be marvellous and keep the spirits flowing. I would rather be amongst the 701 than the 40,000 plus at Stamford Bridge.
Want to see your name in print? The branch is invited to write a short article in every City home programme. The more people who contribute, the more varied and better our page becomes. Email Dot, our programme page co-ordinator with your words. As always a photo helps, but isn't necessary. Most things City related go, so write now, write here.
Bootham Crescent
Main Programme Page