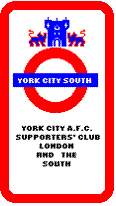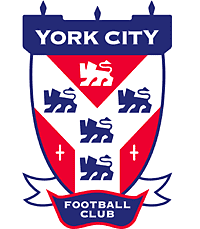 Southern Connections
Our Trip To Broadhall Way
22/Jan/2005 (Morecambe) - Dot Brown
Our first away match of 2005 - Saturday 8 January - a sunny day in the south - and not too far to travel. Less than an hour in the car from West London down the A40, M25 and A1 to get to Broadhall Way, the home of Stevenage Borough Football Club [SBFC]. Free car parking opposite the ground was a great idea [except we missed the entrance the first time and so went on a little round trip].
We were made very welcome in the SBFC clubhouse where we met up with other York City South members for pre-match liquid refreshments, discussions about the club and match forecasts. The FA Cup game between Sheffield United and Aston Villa was on the TV and it was great to see the Yorkshire side win. A good omen. On the way out of the clubhouse, several fans took advantage of some interesting odds on offer from the local bookmaker. The popular bet was on P. Robinson to score the first goal [we did explain that there were two players in our team with that name] - double the chance! Into the ground where the York City fans created a great atmosphere - lots of noise, cheering and singing. Anticipation mounted - a good first half - and great to see York goals being scored - with a bonus celebration for the gamblers when our first goal hit the back of the net from P. Robinson [but later officially credited to Jon Maloney].
During the match we were kept in touch with the FA Cup scores. We cheered when Scunthorpe scored the first goal in their match against Chelsea and admired Exeter's clean sheet against Manchester United. What a great experience for both lower division teams. Our team played well and we left with a draw and one point - and so close to getting three points. Well done! We were home before 6 pm - kettle on with time to watch some world darts!
Up the City!
Want to see your name in print? The branch is invited to write a short article in every City home programme. The more people who contribute, the more varied and better our page becomes. Email Dot, our programme page co-ordinator with your words. As always a photo helps, but isn't necessary. Most things City related go, so write now, write here.
Bootham Crescent
Main Programme Page