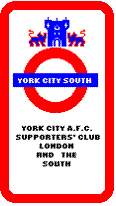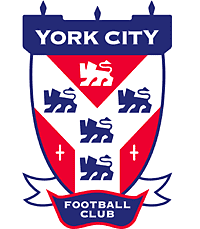 Southern Connections
York City Are The Best
02/Jan/2005 (Scarborough) - Charles Forth (age 7)
I like York City because my dad comes from York. He takes me to the games. The last game that I saw was Woking v York. York were defeated 1-0. It was Paul Robinson's birthday but before the game I didn't know that, so I didn't buy him a present. My Dad said that I should have got him some new scoring boots. Before the game, I tried to get Chris Brass' autograph, but he was too quick for me. Chris is my favourite player and I think he is our best player. I hope when Chris stops playing he would be our manager again and have better tactics. Viv is a great coach and he is a good teacher for the young players. Daddy tells me how he used to coach John Byrne before.
Now we have 2 Paul Robinsons playing for us and it would be a good tactic to confuse the other team playing having 11 Paul Robinsons in our team. It would confuse the other team. My Dad said we used to have a young goalkeeper playing for us called Paul Robinson. I think we should start by asking him to come back.
The first game I saw was against Oxford, we drew 2-2 when Chris was the manager. The next match that I saw we drew 2-2 at Leyton Orient. It was exciting and York nearly won 3-2, the ball was inches away from the Leyton goal so that's why it was exciting. The game against Swansea was good because we were down near the bottom of Division and we drew 0-0.
We had a good start with Viv and should soon move up quite a few places in the Conference. I hope York end up first. If we can't finish first I hope we get promoted in the play off final.
Today is the first game of the new year. I hope we get off to a good start and win 4-0. I want Chris, Lev, Paul D Robinson and Lee Nogan to score. I hope that David doesn't get cold in goal and I hope he can save a penalty. I will be in The Family Stand with my Dad. I hope I get Chris' autograph today. All my friends at school support teams like Arsenal, Chelsea, Liverpool and Man United and their favourite players are Thierry Henry. Frank Lampard, Steve Gerrard and Ruud Van Nistlerooy. But today, if I get Chris's autograph then I will be the first boy in my class to get the autograph of a proper real player and all the other boys will be jealous of me and York City.
After this appeared in the programme, one Arthur Bottom subscriber wrote. "Good article by seven year old Charles Forth in today's programme, if a little bit on the optimistic side for a York supporter, but he's young so he'll learn. Please could he be put in charge of the team, he couldn't be any worse than Busby and his bizarre team selections and substitutions."
Want to see your name in print? The branch is invited to write a short article in every City home programme. The more people who contribute, the more varied and better our page becomes. Email Dot, our programme page co-ordinator with your words. As always a photo helps, but isn't necessary. Most things City related go, so write now, write here.
Bootham Crescent
Main Programme Page