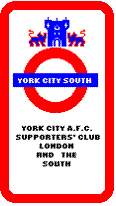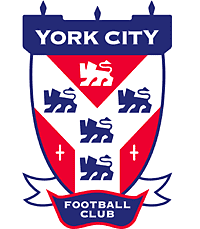 Southern Connections
Review Of Our Season Down South
29/Dec/2004 (Burton) - Dot Brown
I hope you have all enjoyed a festive and enjoyable Christmas. [My letter to Father Christmas asked for some points - so hope I get my wish]. We celebrated our 'York City South' Christmas meeting in our third different venue this season. We did not upset anyone [as far as I know] and we are not naturally nomadic but circumstances have led us to explore new venues [mainly public houses] in the London Area.
Our regular 'White Horse' meeting room was refurbished into an extra bar; the second pub was great for watching the live football on television but too noisy for a meeting; and the third location (Old Doctor Butler's Head) used is a Shepherd Neame pub with six different real ales to choose from [great for those real ale lovers - where are you Dave Wood?]. We met the manager, who is a Swindon Town supporter, and have confirmed our booking for our January 2005 meeting.
But don't think we have spent all our time finding meeting venues. At our meetings there is a lot of post-match analysis and plans for future matches including travel arrangements [car sharing and group train tickets] and meeting points.
We sponsored the York City v Canvey Island match; organised an evening to watch the Morecambe v York City match live on Sky TV; and at our November meeting we welcomed Steve Beck as our guest speaker. We enjoyed our evening with Steve and discussions ranged from the future of the club; club football performance and training; and the planned celebrations to celebrate reaching the 1954-55 FA Cup Semi- Final. Thank you Steve.
Good luck to all staff and fans of York City Football Club for 2005!
Want to see your name in print? The branch is invited to write a short article in every City home programme. The more people who contribute, the more varied and better our page becomes. Email Dot, our programme page co-ordinator with your words. As always a photo helps, but isn't necessary. Most things City related go, so write now, write here.
Bootham Crescent
Main Programme Page