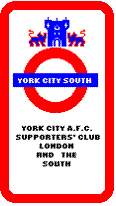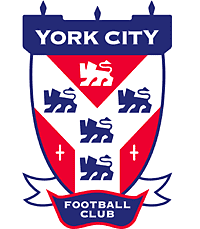 Southern Connections
London A-Z
07/Dec/2004 (Halifax) - David Thompson
The London A to Z lists 56 streets bearing the dignifying York name, whilst Darlington manages only a single road out in SE27. The Cittie of Yorke public house, on High Holborn, engenders the atmosphere of the Minster and exemplifies tourist perceptions of a Merrie Olde England, inhabited by Victorian chocolate makers and railway kings. It is clear, however, that little thought is given in the metropolis to living York, let alone its football team - except in north London giant killing times.
The diverse metropolis population harbours far many more fans of clubs, such as Fenebache, than there are Minstermen supporters. Following YCFC is a minority pursuit and meetings of the London & South supporters, in smoky upstairs pub rooms, almost have a clandestine feeling. Even the triumph of the FA cup victory, at Reading, concluded with the few arriving back at Paddington unrecognised and rapidly submerged back into the melting pot.
Although London is said to be a city comprised of villages, such as Tufnell Park, many of these localities lack a significant local team and immediate football linkage. The inhabitants of York Rise NW5, a typical road, probably turn to Arsenal, some miles distant, for their football thrills. I suspect that many have no real affection for the Gooners, who provides a transient feeling of success and something to watch on Sky. As it is, many Arsenal supporters seem to live in the Home Counties, as Nick Hornby observed sadly in his book "Fever Pitch".
Looking at London, with its dismissal of anything provincial and its often tenuous links between club and community, it is clear why York exiles react by rejecting the capitalís soccer offerings. Instead we pride ourselves in supporting a "great little" club, which epitomises the history, extended community and modern life of the fine city of York.
Want to see your name in print? The branch is invited to write a short article in every City home programme. The more people who contribute, the more varied and better our page becomes. Email Dot, our programme page co-ordinator with your words. As always a photo helps, but isn't necessary. Most things City related go, so write now, write here.
Bootham Crescent
Main Programme Page