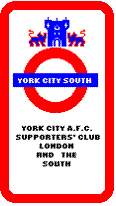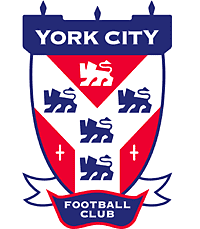 Southern Connections
How The Other Half Live?
27/Nov/2004 (Carlisle) - Alastair Smith
York City South were match sponsors for the Canvey Island game a couple of weeks ago. It is probably a common misconception that it costs a fortune to sponsor a game, however, for a special occasion it is quite reasonable.
Our box was available from 1pm, and like the joke, faces the car park rather than the pitch. There were 12 of us in the box, and we started meeting up just before 2pm. We had a fantastic buffet, and the fridge was full of beer, wine, and soft drinks. Programmes were provided in the room and as soon as the teams were confirmed we were provided a team list, and then spent a while discussing the players and what team each of us would have put out !!
The hour before kick-off was extremely busy, Steve Beck (ex-Vice Chair of our Branch) and Sophie McGill spent quite some time talking to us, answering all our questions about the club and where we are going, and in Sophie's case, posing for photographs. We were also entertained by the guest of the day, Barry Lyons, who regaled us with some stories from the heady days when we were in the old Division 2 playing the likes of Manchester United, Sunderland, Aston Villa etc. How times change.
Half time saw us back in the box for a drink, alcohol for some, coffee for others, and a quick check on the half time scores on the TV. The match wasn't the greatest, but it is the responsibility of the match sponsors to pick the man of the match. Our dilemma was that nobody really played badly, but nobody stood out. The last 20 minutes were spent with names being whispered up and down the line of 12 people, each with one vote, we had four potentials with not a lot to choose between them. We eventually plumped for Paul Robinson, and waited nervously for the crowd reaction to the announcement, howls of derision would have been embarrassing.
Once the game finished, it was back for another drink or two, full time scores on the TV, and then Paul Robinson came to collect his presentation, one of our York City South sweatshirts.
The Branch does not have funds to enable us to sponsor a game, so we invite our members to attend and charge them £30 a head. The Branch paid for a buffet and purchased beer and wine from Tesco's. If you are looking for a special celebration why not contact Louise and sponsor a game. You are looked after extremely well, will enjoy a great day and support the Club. What more could you ask for!
Want to see your name in print? The branch is invited to write a short article in every City home programme. The more people who contribute, the more varied and better our page becomes. Email Dot, our programme page co-ordinator with your words. As always a photo helps, but isn't necessary. Most things City related go, so write now, write here.
Bootham Crescent
Main Programme Page