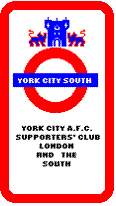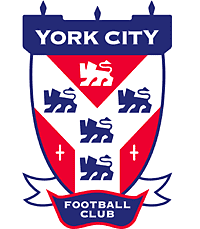 Southern Connections
Why do We Do It?
02/Oct/2004 (Stevenage) - Josh Easby
Itís sometimes frightening what the mind turns to on a long solo car journey. I was driving to Gravesend for our away game in August when the traffic slowed to a halt on Londonís notorious M25. Instantly, I knew my theoretical one-hour journey from my home north of London was about to turn into something of a mission.Sure enough, my trek took three hours, the same time it takes me to drive to a home game at Bootham Crescent. And I was lucky to get to the ground just as the game (and the goalkeeper) was kicking off.
At least I got there about an hour before fellow York City South members Ray Goodearl and Richard Skilbeck who took four hours to get around London. I even got there before Gravesend striker Ray Essendoh who arrived after half-time and had to make a late appearance as a sub. As I sat in the jam, feeling sorry for myself and even sorrier for the Spurs fans trapped in the opposite direction and sure to completely miss their Premiership game, my mind went to work. I wondered how many hours in travel time I and other fans invested in a season, just to see our regular 90 minutes of football? And what counts as travel time?
Five seasons ago, I drove three hours non-stop to York for a midweek game against Blackpool. As I came off the A64, Radio York informed me the game was off due to an errant water sprinkler flooding part of the pitch. My total six hours of driving yielded nothing more than a fish and chip supper in Fulford.
Two seasons ago, I was driving north to Bootham Crescent when the M1 was closed. Nothing moved for more than five hours and I got no further than Leicester. Hundreds of football fans, Sheffield United, Watford, Nottingham Forest, Leicester City and Derby County shirts seemed to be everywhere, gathered around car radios as we stood on the M1, listening for goal flashes. A seven-hour investment for no return.
Three years ago, my company-provided car ran up 25,000 miles during a single season (not just football but it was high percentage of my travel), and our accountant suspected I was running a mini-cab business on the sly.
So why do we do it? Sitting on the M25, I realised it wasnít purely to see the football. It struck me Iíve never regretted going to any game, no matter the result. I would rather have been at Maine Road when we lost 4-0 and were relegated from the Second Division, than to have not been there. The only games I regret are those I didnít attend.
I suppose the bottom line is Iím investing in memories, not football. Even when the memories are of a six-hour drive for fish and chips, or being parked on the M1 for more than five hours.
Josh is the editor of Thereís Only One Arthur Bottom, a daily email newsletter about York City. More than 2,500 issues of TOOAB have been distributed since it began in 1997. You can subscribe free by contacting Josh.
Want to see your name in print? The branch is invited to write a short article in every City home programme. The more people who contribute, the more varied and better our page becomes. Email Dot, our programme page co-ordinator with your words. As always a photo helps, but isn't necessary. Most things City related go, so write now, write here.
Bootham Crescent
Main Programme Page