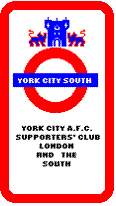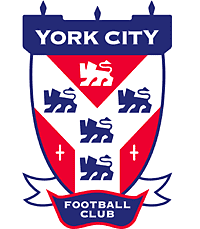 Southern Connections
The Conference: A Southerly Aspect
31/Aug/2004 (Accrington) - Dot Brown
Renewing Old Acquaintances

.

Accrington Stanley

The old uns will spin some yarns

Aldershot

Our first lesson in Conference football, painful, but home by 5.50 p.m.

Barnet

Just an hour on the tube, Always lots of goals

Carlisle

We did the double over them last year, we must repeat it this season

Exeter

A relaxing trip on the train to sunny Devon

Halifax Town

The Shay, quaint, rusticated, and scary. 1-2 defeat in the LVD Vans last season, revenge must be ours

Hereford United

Our second lesson in Conference football [more pain] and when we go there the BULL to contend with as well [paraded prior to our FA Cup defeat some years ago]

Scarborough

No more need be said, 4 points from the two Christmas derbies will do.
Whereabouts Are These!!

Burton Albion

The Cloughs! What has the son learnt from Dad? We will find out.

Canvey Island

Pitch reported to be below the Thames water level at high tide, and the graveyard of Northampton Town

Crawley Town

Heads down! Low flying aircraft

Dagenham & Redbridge

An enviable stadium so the spies say

Farnborough Town

Heads down again- more low aircraft

Forest Green

A VILLAGE! A VILLAGE! To what depths have we plunged? The free fall must stop here

Gravesend & Northfleet

In the Garden of England- not in this part of Kent

Leigh RMI

Train-repairers- David McNiven was here, lost his spanner, he's gone to Queen of the South

Morecambe

Tuesday night in October, the wind howling in from the sea, bitter!, thermals needed and more

Northwich Victoria

Ground the Drill-field, we all stand in lines, smartly to attention, only saved from relegation by Telford's demise

Stevenage Town

Boring trip on the A1, boring new town, lots of little boxes

Tamworth

They were the Lambs [their nickname] at Bootham Crescent, they might be the RAMS by the time we get to Staffordshire for the return

Woking

Posh, commuter belt, so best behaviour with collar and tie and pastel twin sets for the ladies
In summary, a Barnet supporter we met at the Middlesex-Yorkshire Sunday Cricket League game said 'the conference is FUN! !" Not so far, let's leave them their so called FUN and get out of the Conference. I miss Kidderminster's pies, and the 20 minute bus ride to Griffin Park.
Want to see your name in print? The branch is invited to write a short article in every City home programme. The more people who contribute, the more varied and better our page becomes. Email Dot, our programme page co-ordinator with your words. As always a photo helps, but isn't necessary. Most things City related go, so write now, write here.
Bootham Crescent
Main Programme Page