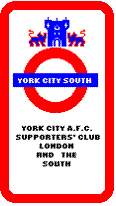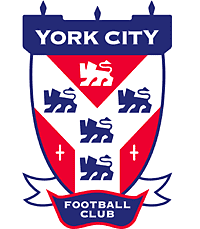 Southern Connections

21/Aug/2004 - My F.A.Cup Weekend (John Catton)

My F.A.Cup Weekend

by John Catton.
How did you spend FA Cup Final day? Watching TV from 10 a.m.. anticipating a close match between Fergieís United and Denisís Millwall, 2 clubs who nobody likes but they donít care!! Going down to the supermarket with the missus to do the weekís shopping (sneaking an extra 6-pack into the trolley without her noticing for the match).
Not me. I grab Jenny & Jamie and take them down the A1(M) and round the M25 to assess the Grounds & Facilities awaiting City in the Nationwide Conference National for York City Southís new Travel Guide.
First stop on our itinary is Woking. Luckily the ground is open. We are welcomed by the Chief Steward of the Social Club who thinks we are the first arrivals for the Wedding reception he has been preparing for that morning. When I tell him I am from the London Branch and doing a Ground Survey, he states "Your lot plummeted like a stone last season." Obvious. Still, itís nice to see people noticing our results, whatever the circumstances. The focal point inside the ground is a very smart stand behind one of the goals. However, the rest of the ground reminded me of Oxford Unitedís old Manor Ground with its hotch-potch of miniature shacks. As for drinking needs he tells me that due to Donny Rovers last season being a little over the top, segregation may be brought in leaving the Snooker Club outside the ground being the only place where you might get a drink.
On that cheery note we bade our farewells and travelled onto Aldershot & Farnborough, the 2 clubs nearest to each other in the Conference, 6 miles apart. We finished the day off at Crawley Town, a very impressive new ground and then onto Clackett Lane Travel Inn for the overnight stop.
After a late migraine, restless sleep and a run-in with the Service Stationís own Amy Turtle we moved onto Gravesend & Northfleet. Their groundsman, Peter Norton, was very accommodating, letting me snap away to my hearts content and telling me everything there is to know about groundsmanship.
We arrived at Canvey Island on the morning of their FA Trophy final against Hednesford Town. The car park was full but there was not a soul about. Canvey Island will be an experience, especially if as rumoured our April 30 last away fixture is rescheduled to a cold Tuesday night in February!
We had a late lunch at the very spacious social club at Dagenham & Redbridge. Arriving at Underhill late afternoon and reminiscing about our 5-1 win (a long time ago) we decided to postpone Stevenage Borough for another day. We arrived home very tired and in need of a good cup of tea.
For the record, United beat Millwall 3-0. Surprise, surprise.
Want to see your name in print? The branch is invited to write a short article in every City home programme. The more people who contribute, the more varied and better our page becomes. Email Dot, our programme page co-ordinator with your words. As always a photo helps, but isn't necessary. Most things City related go, so write now, write here.
Bootham Crescent
Main Programme Page