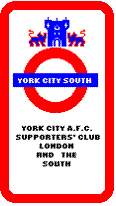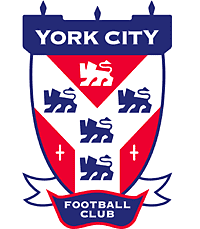 Being a member of York City South helps support York City financially, vocally, and by raising the profile of York City FC. The benefits of membership include:-
regular newsletters
car sharing to games
access to reduced rail travel
regular meetings, guest speakers and the chance to meet other people from the York area. To date our guests have included Dean Kiely, Douglas Craig, Sophie McGill, Chris Jones, Graeme Crawford, David Ward, Nick Bassett and Jon Champion
In recent years, an almost annual event has become "Meet The Manager" when the club invite YCS into the team hotel on the evening prior to a southern City away game. Other events have included darts, bowls, quizzes and an annual Christmas party
regular central London venue for City's televised games
free access to York City Social Club
free membership of the York City Supporters Club
a voice in every home matchday programme
direct access to club officials providing opportunities for input into club policy making
travel Insurance to and from matches
recognition from the club of the support, both vocal and financial given by the branch to the club, as often demonstrated in the club's appreciation of us and in their actions in trying to ease the burden on the long distance supporter
new friendships with like minded people, although not a dating service, some have lead to marriage, others new, common shared interests, cricket, music and real ale included)
chance to win the short worn by our sponsored plater
matchday ticket draw
York City South Football Team
weekly 5-a-side football in Brixton
and more much besides.
Whilst membership will secure these benefits, whenever possible, we are always happy to welcome non members. However, we are non profit making body and all membership fees will be donated to YCFC in one way or another.
Membership is just £10 for the season. Fill out the membership form now, it was easy, it was cheap, go and do it.
The Yorkcitysouth minstermen, in many different ways, donated over £1,700 to York City during the 2004/5 season. The most in one season in a long line of significant donations to our club.
During the 2005/6 season, over 85% of our income was donated to the club in one form or another.
During the 2013/4 season, £1,042 of YCS monies found its way into the coffers of YCFC.
Annually, we sponsor a player, fill a hospitality box at a home game and contribute to club funds in many others ways. In March, 2017, we presented a £500 cheque to Gary Mills.